Welcome to my Gap Year web site!
My Gap Year
In January 2002 I travelled to Ethiopia for and spent six months working alongside Christian missionaries.
This site is a record of that time and is retained for the benefit of those who may be considering something similar - Go For It!
My name is Helen Greaves. I come from Hartford, Northwich in Cheshire.
I was 19 when I took a gap year with SIM in 2002.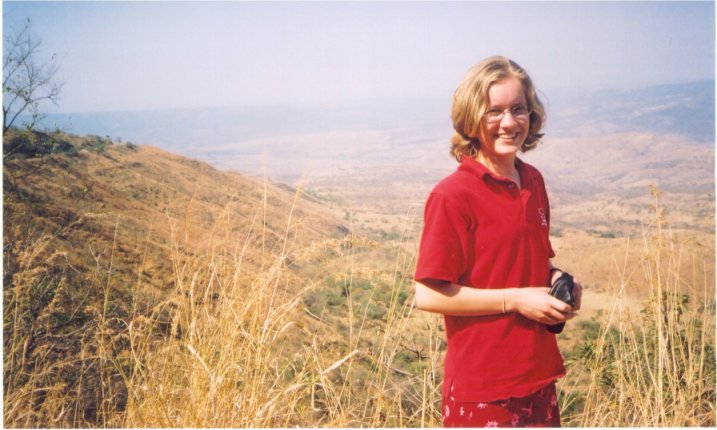 This site is all about my year. There are also links to my Family Web Page and to SIM so you can find out more about them and to other useful sites.
GAP is short for Global Awareness Programme but also acts as an outline for why I have chosen to spend my GAP year serving God. For me I know that this time, as always, should be when God is at the centre, this is An opportunity to learn and grow and is how I will Play my part in World Mission.
As a committed Christian I am seeking to obey Jesus command to put him first in my life.
Jesus said,
"But seek first his kingdom and his righteousness, and all these things will be given to you as well."
Matthew Chapter 6 verse 33
Following an orientation and training course from October to Christmas 2001 I arrived in Ethiopia in January 2002 remaining there until the end of June 2002. I worked alongside an SIM missionary couple. For more about what I did on my Gap year read the Prayer Letters, click on the Placement option on the menu and look at the GAP program info on the SIM site.
CONTACTING ME

My email address whilst in Ethiopia was baldies@telecom.net.et

You can also email me at helenchristinagreaves@hotmail.com.

My snail mail for

letters was

Helen Greaves

SIM

PO BOX 1190

Jimma

Western Ethiopia

My snail mail for

parcels & packages was

Helen Greaves

SIM

PO BOX 127

Addis Ababa

Ethiopia
By the way, my Dad is responsible for most of this site .... so blame him! (He's a star really.)
This page was last updated on 17-Nov-2003.
Any problems with this site should be reported to webmaster@greaves2000.co.uk