Prayer Letter #1 October 2001
To begin with I would like to say thank you for your interest in my pursuits over the next year. There is nothing more reassuring than knowing that there are people who will be thinking of and praying for me while I am away from home.
SIM: Serving In Mission
In June I left Sir John Deane's College and gained two A's and 1 B at A-level.

I have a deferred entry place at Reading University to begin in Sept/Oct 2002 to do a degree in Primary Teaching specialising in Art. In October I will begin my two-month training course for the SIM GAP

programme at SIM Headquarters, Wetheringsett Manor near Stowmarket, Suffolk. (see below).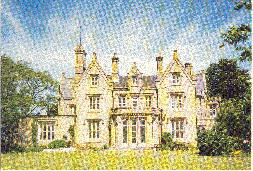 GAP is short for Global Awareness Programme but also acts as an outline for why I have chosen to spend my GAP year serving God. For me I know that this time, as always should be when God is at the centre, this is An opportunity to learn and grow and how I will Play my part in World Mission.
There are seven other 'Gap'-ers who will be doing the programme with me and our training, which is described as 'intensive', will be eight weeks of orientation where we will be introduced to a range of subjects and activities designed to help us get the most out of our overseas assignments. Orientation will include a training programme of lectures and informative talks but it also includes a variety of other activities. For example, every morning there is a staff prayer meeting for half an hour however on Wednesday mornings we will split up into departments and pray in these smaller groups. During orientation we will be assigned to a local church where we will hopefully link into one mid week event, e.g. Bible study, prayer meeting etc. Once a week the Gap team will meet for Bible study, prayer and fellowship.
Along with general housekeeping etc, Wednesdays are 'practical' days! This means we will be working outside on "a number of practical projects". I don't know what this involves but it sounds like hard work!! Finally on Thursday afternoons we will have the opportunity to be introduced to and work with each of the main departments that make up SIM's operations centre. So as you can see I won't be short of things to do I just hope I'll be able to keep up!
The orientation programme is designed to prepare us as much as possible for January when I will go abroad - to a yet unknown destination for 6 months with another girl on the programme.
Please pray that:
· those leading the orientation would have wisdom as they plan the timetable.
· I would be patient in waiting for decisions regarding my destination abroad, my companion and the work I will be involved in. Also for wisdom for those who have to make these decisions.
· all the practicalities of flights etc would be dealt with quickly and easily but that in turn they would not detract from why and for whom I am taking this time to work with SIM.
SIM-UK
Wetheringsett
Wetheringsett Manor
Stowmarket
Suffolk 1P14 5QX October 01