Prayer Letter #2 November 2001
Well, it's been a month! Time flies when you are enjoying yourself and I've certainly been doing that! I'll just get you up to date on a few questions that you may be asking.
Who else is on the programme?
There are seven 'GAP'-ers including myself on the team. Let's do some introductions….
Lexi Graves is from Leicester and is great on the piano.

Hannah Rout is from Reading and took us jogging in the first week but has been by herself since then!

Rachel Sprott is from Edinburgh and is addicted to Coca-Cola

.

Jonny Elliot is from Guildford and we enjoy singing together.

Simon Jackson is from Bangor N/Ireland and plays guitar.

Phil Salmon is from Carlisle and loves to drink tea!
And last but by no means least Ruth Everitt from Chester who is our team leader. Her main job is to keep us under control!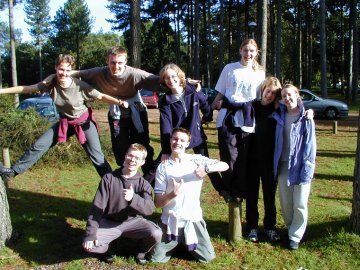 So what have you all been doing?
Work and play! More work than play I might add! (Some may disagree!) We have about four lectures each day and the topics vary. We are taught various subjects for example, spiritual disciplines, scripture memorisation, Christian beliefs, different perspectives on world mission, a fantastic Bible study on 1 Thessalonians and we are also in the middle of a course designed to help us discover our spiritual gifts. Other, more practical lectures include how to cope with entering a new culture, how to teach English to speakers of other languages (TESOL), and a look into how SIM operates.
Wednesdays are 'practical' days! On Wednesdays we all report for duties with the facilities manager, Mike. We all get to work, with Galatians 5:13, "….Serve one another in love', running through our heads and it stays there as we wash cars, demolish caravans, knock down walls, shovel drives and rake leaves.
So as you can see the timetable's full but there is still room for fun!
Fun!
We've been on a camping trip which involved leaving the car boot wide open in a downpour as we sat oblivious in our tents! When the boot was closed someone, surprisingly not me, locked the keys into in it so that we had to call out the AA at 9:00 the next morning and walk around in our pyjamas and eat sandwiches as we waited for our clothes and breakfast cereals which were, you guessed it, in that boot!
We get on very well as a team, which is an amazing answer to prayer. Our camping trip also included 'team building' exercises. As we all know these usually involve obstacles (e.g. trees, rivers), carrying each other over these obstacles and allow great photo opportunities!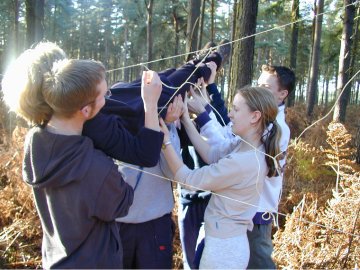 So do you know where you are going?!
YES! Our six-month placement after Christmas has now been confirmed and I am off to Jimma in the south west of Ethiopia with one of my fellow 'GAP'-ers, Lexi Graves. Lexi and I get on well, which is an answer to prayer, and we both enjoy music and have a passion for working with children. We are going to be working closely with a family called the Baldwins and will almost certainly be home schooling three of their four children. As many of you know I have applied to do a primary teaching at Reading University next year so this will be great experience for me although we both have no idea as to how to teach!
Which church are you going to?
Hannah, Jonny, Phil and I have been assigned to a local church in a small village called Rishangles. We are overwhelmed by their hospitality and have been out to lunch every Sunday since we arrived! All are interested in our stay and we have been interviewed and asked to lead singing at the front of church. On a Friday night there are three groups run for the different ages from about 9 to 15. All together they can get up to 40 in a Friday night, which is amazing for the size and location of the church. Children come from quite a way as there is so little organised for them. We regularly help out with the Seniors group and have been asked to lead in a few weeks time.
So what can we pray for?
Praise:
| | |
| --- | --- |
| | Praise God because he is gracious and compassionate. |
| | Thank God that he has answered prayer about the organisation of our placement. |
| | Thank God that he has brought some very different personalities together to create a fun, diverse and interesting team. |
| | Thank him that Lexi and I have so much in common and that our friendship is growing. |
Please pray:
| | |
| --- | --- |
| | That Lexi and I would continue to trust God for His guidance and provision. |
| | For those who are working to organise the practicalities of our stay, flights, visas etc. |
| | That we would continue to grow, not only in our knowledge, but also in our love of God. |
Thank you for your support in many ways over the last month it is greatly appreciated. (You wouldn't believe the excitement when letters arrive!)
Helen Greaves