Prayer Letter #3
And we're off… January 2002
Prayer letter number three already?! No, I can't believe it either. Christmas, while being a great time with family and friends has been a bit of a blur and January 7th is fast approaching.
Training
Training at Wetheringsett was wonderful. I learnt so much about the Bible and my role in world mission. I came back excited, more prepared and with the certain hope that God would teach me great things in the next six months.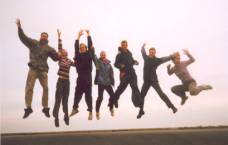 During my time away I learnt more about the placement I am going to. On 7th January I will fly from Manchester to Heathrow where I will meet Lexi, my fellow GAP-er and companion for the next six months. From Heathrow we will fly via Alexandria to Addis Ababa where we will stay for a few days. During these few days we will fill in a lot of forms and meet with the Home Schooling Facilitator for SIM Ethiopia who will hopefully give us some sort of a clue as to how to teach!! The rest of the time in Addis Ababa will be spent acclimatising, adapting to our new culture and buying dairy products in bulk to take on to Jimma! After a few days we will travel by road to Jimma, this might take up to 10 hours due to the condition of the roads.
Jimma
Jimma is our final destination and will be home for the next six months. Jimma is about 5500ft above sea level; we have heard it is green and has banana trees! Here we will meet the Baldwin family who work as missionaries with SIM. They are David, Maura and their four children Joshua 10˝, Luke 9, Alfie 4 and Phoebe 2. David teaches at a Bible college and they work with the local people. Maura is currently home schooling Joshua, Luke and Aflie but Lexi and I will take on the majority of that work making it possible for her to spend more time in mission's work.
Lexi and I will be living in a house rented for us by the church we will attend. This idea excites us no end as you can well imagine. This little house is made of mud, has hot and cold running water and electricity some of the time!
Praise God...
· Because of his goodness and faithfulness
· For his provision regarding tickets and visas, which came right on time
· For how quickly and smoothly we have been able to obtain vaccinations and medical treatments
Please pray...
· That our journey will be safe and uneventful and that I will easily change planes at Heathrow
· For the Baldwins as they prepare for our arrival
· For our families as they adjust to life without us nearby, and visa versa!
· That we would settle in quickly
My new address will be:

Helen Greaves SIM
PO BOX 1190
Jimma
Western Ethiopia
Email: baldies@telecom.net.et
Thank you again for all your support. I will keep you up to date on goings on in Ethiopia
Grace and Peace,
Helen Greaves